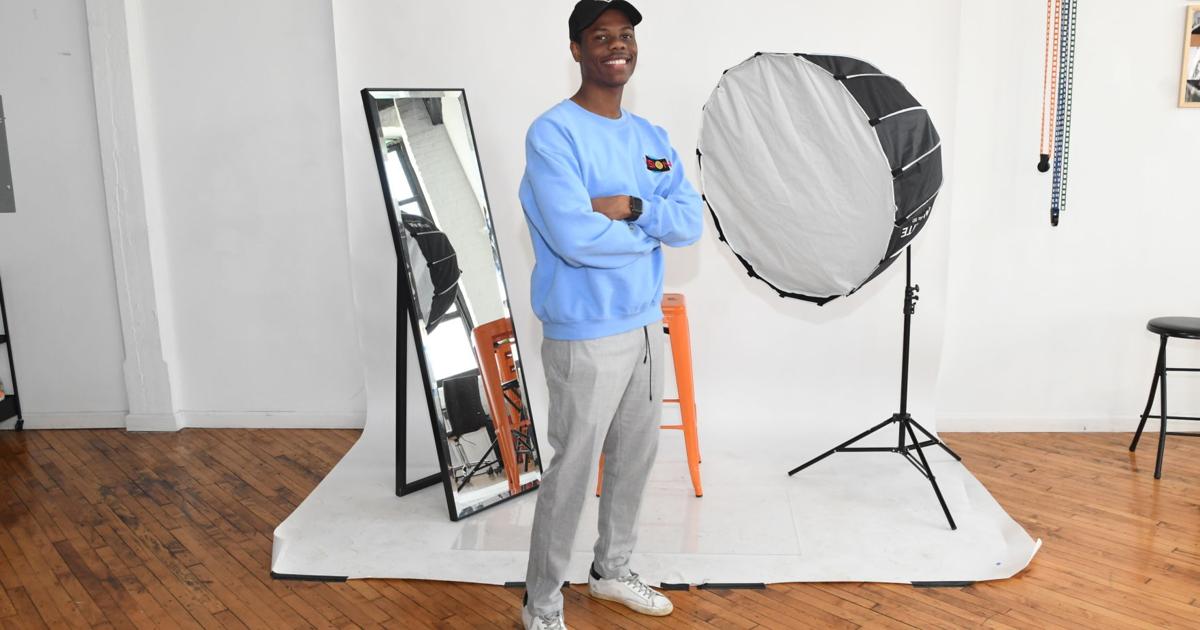 A local entrepreneur seeks to empower creative professionals | Business
After more than a year in a business, CJ Wolfe channeled his creative interests into a commercial venture.
Wolfe was juggling being a freelance photographer and working as a financial advisor at Northwestern Mutual when he decided to go into full-time entrepreneurship.
"I was always designing when I was in business," said Wolfe, a 26-year-old Philadelphia native. "It just struck me that I could do this full time and that I could show it could be done to other designers, especially in the Philadelphia area. "
"So I just took a leap of faith and said, you know what, I'm going to come up with an exit plan," he continued.
So he launched Immortal Vision Studio last March. He and his team often rent the Kensington-based studio to photographers and other creative professionals.
"I noticed a lot of designers were coming into our studio to rent it out and they wanted to make more income," said Wolfe, who has a team of seven. "They wanted to create more and they needed to learn different skills and tactics to monetize their creative business."
"We don't just provide the space," he explained. "I was also able to build a team where they can also do the creative work for different companies and businesses. "
"You can walk into our space and maybe we'll see you're a talented photographer," he explained. "We are actually able to invest in you by providing you with different jobs. "
Its full-service agency specializes in the production of digital content, photography and videography for businesses, organizations and athletes.
Wolfe gains motivation by being able to turn to other creative professionals.
"The more things I am able to accomplish or connect people with, I know it won't benefit me, but I know it will benefit our community," Wolfe said.
"There's no better time than 2022 to monetize your artwork – to monetize as a creator, so that's really what drives me," he said.
Wolfe will take care of the rebranding of Antoinene Fullard's production company.
"We're looking to grow," said Fullard, who heads Truth Be Told Management. "We are looking to change brands. We're looking to harness the innovative side as a business, so I wanted to link up with CJ. I'm building a team and wanted him to be part of what we have to move forward.
She sees working with Wolfe as a way to give back.
"This is how I see working with CJ," Fullard said. "He is part of this young, prosperous generation. They are super passionate about what they do. They have their entrepreneurial spirit.
She saw Wolfe flourish over time. When he first asked her if he could take pictures of some of the artists in his company, she was a little hesitant.
"I was a little skeptical because you want the best photographer, but I wanted to give it a chance because that's how it starts," Fullard said. "You are looking to grow with people. He took pictures of some of the artists I worked with early in their careers, even when he wasn't like he is today. So giving him the opportunity meant a lot to me.
Wolfe also uses his studio to teach high school designers business, design and project management concepts.
"We have partnerships with high schools in the Philadelphia area and non-profit organizations where we teach kids, that's how I started my business," he said.
Wolfe also uses his background as a financial advisor to deliver monthly programs at the studio on topics such as financial literacy, business credit, and non-fungible tokens (NFTs).
"We flow into the community," Wolfe said. "We want to empower. We want to educate and we want to connect with you and connect with the culture as much as possible.
The studio will be upgraded from a 900-square-foot to a 2,000-square-foot room at 426 E. Allegheny Ave., allowing the company to provide more space for local creators and its programs for artists. high school students.
The company has grown considerably in its first year. Wolfe attributes the good relationship to the success of his studio.
"A lot of people have asked me how can you quit your job and be so successful," he said. "We just turned one year this year and have helped over 560 people within our company. "
"It was more about having a plan and just having this network that I built in the corporate world and my years in college as well. This is how I was able to rely on the people I have met throughout my journey to help make this vision a reality. "
"Networking is the most important thing, I tell individuals, because you never know who knows who," Wolfe continued. "You never know how this person can help you. "
Wolfe played basketball while pursuing his undergraduate studies in communication at Gwynedd Mercy University.
He first picked up the camera in 2017 and honed his photography skills over the next two years.
"It was just a lot to prove myself, and it was a lot to learn how to use the camera and be a creator," Wolfe said.
He also spent a lot of time networking in Philadelphia. During this time, he started making connections and working on photography projects for various athletes.
"Even though it was a smaller athlete on a smaller scale, I made sure I produced the best work, and I think with that consistency and professionalism as a young black man in this field, a lot people have started to take this into account. and I started to recognize my gifts and my talent, "he said. "I just continued to stay resilient and persistent in pursuing what I wanted and it worked."